Tom Frey

Owner/CEO • General Contractor • Engineer (BSME)

Tom Frey is a Licensed General Contractor and holds a Mechanical Engineering Degree. With over 15 years of experience in the construction industry, Tom brings his extensive knowledge of new construction and engineering to the home inspection business. He understands and can explain the dynamics of normal wear-and-tear versus structural damage and can evaluate the level of severity instead of merely making a checklist of damages. You can be confident that Tom has the knowledge to train a team of inspectors who will provide needed advice during your potential home purchase.
Jorge Cermeno

Inspector, CPI
Tr-Lingual (English, Spanish and Portuguese)
Jorge brings 10 years of construction knowledge and a family history of engineering. He holds a degree in architectural design/construction technology. He spent 8 years working in the field as a laborer and handyman focusing on repairs. He was quickly promoted to supervisor due to his attention to detail and thirst for knowledge. Jorge is versatile and dedicated to providing a high level of knowledge and customer service. He loves his family and strives to be the best he can be, always looking for ways to improve the system and himself.
Travis Manning


Inspector, CPI | Trainer | Commercial Lead
Travis got his start as a home inspector in Iowa, while working as a Realtor. With 15 years experience in retail management he values the practice of customer satisfaction. Travis loves to be on the boat with his family catching fish and enjoying the water!
Jared Hyers
Inspector, CPI | FAA Part 107 Drone Certified | Lead Trainer | New Construction Lead



Jared has spent years as a quality control specialist in various industries. Jared's time as a quality control specialist and supervisor has proved useful as a home inspector. Jared loves to walk roofs and get into those hard to reach spaces. He loves to spend time with his wife and two kids; he also loves to rock climb and play music.
Brian Smith
Inspector, CPI | Trainer
Brian comes to us with 25 years in the construction field. He has an extensive background in assessing and managing rehab projects. Brian, past he has been the superintendent for a nationwide investment company, whose focus was rehabbing homes for rent or resale. He was fascinated by the home inspection industry and got licensed in 2011. He is the longest standing home inspector in our company. Brian loves spending time with his family doing anything on the water/boating.
Raja Sikorski
Office Manager
Raja is the Office Manager for the Florida Building Inspection Group. She loves helping people with any questions they have about the inspection process and keeping them calm in what can be a very stressful time in our clients live's. She has spent the majority of her career in a chiropractic office, gaining vast experience in areas such as great customer service and making sure clients are satisfied. While being an Office Manager is her primary job function during the day, Raja also enjoys time with her family and fur babies, reading at the beach, and baking.
Debbie Dunn
Assistant Office Manager
Debbie has over 20+ years in the mortgage industry and has worked in a variety of roles. She brings a vast array of knowledge and experience to the Florida Building Inspection Group and understands our clients' needs and the urgency that is required to make a smooth process experience for the client. Her professional goal is to continue to make contributions to the team and help the company grow. Debbie has been married for over 31 years and has two children and two grandchildren. She enjoys traveling, spending time with family, yoga and biking with her husband.
Shannon Berens
Administrative Assistant
Shannon, our second Administrative Assistant, has worked in the Service Industry for over 30 years, gaining in-depth experience in great customer service. As a seasoned Administrative Assistant, she is passionate about facilitating client satisfaction. She enjoys helping people understand the purpose of each inspection and report. Outside of the office, Shannon also enjoys shopping, sweets, and most importantly, time spent with her family and friends.
Dustie Amatangelo
VP of Business Development

Dustie has 25 years experience in marketing and sales. She has grown businesses and territories for multiple verticals to higher levels of success. She is innovative and an expert at relationship marketing. She is our driver. In her spare time, she loves spending time with her family and traveling. She loves country music and just simply having fun.
Kimber Fraley
Business development agent
Kimber is a Florida State alumna whose professional background has focused on sales, marketing, and client relations. She has been in multiple facets of real estate, contributing to companies increased sales and profit margins, and greatly enjoys the industry. As a native Floridian she enjoys spending time outdoors with her friends, family, and 2 fur babies.
Shane Raburn
Inspector Manager
Shane is the Inspector manager overseeing all inspectors in the Central Florida area. He has spent his entire career in the service industry. He owned and operated a pest control business and also a small construction company. He really enjoys working with people and helping them with the home buying process. He loves his family, his faith, sports, music and movies.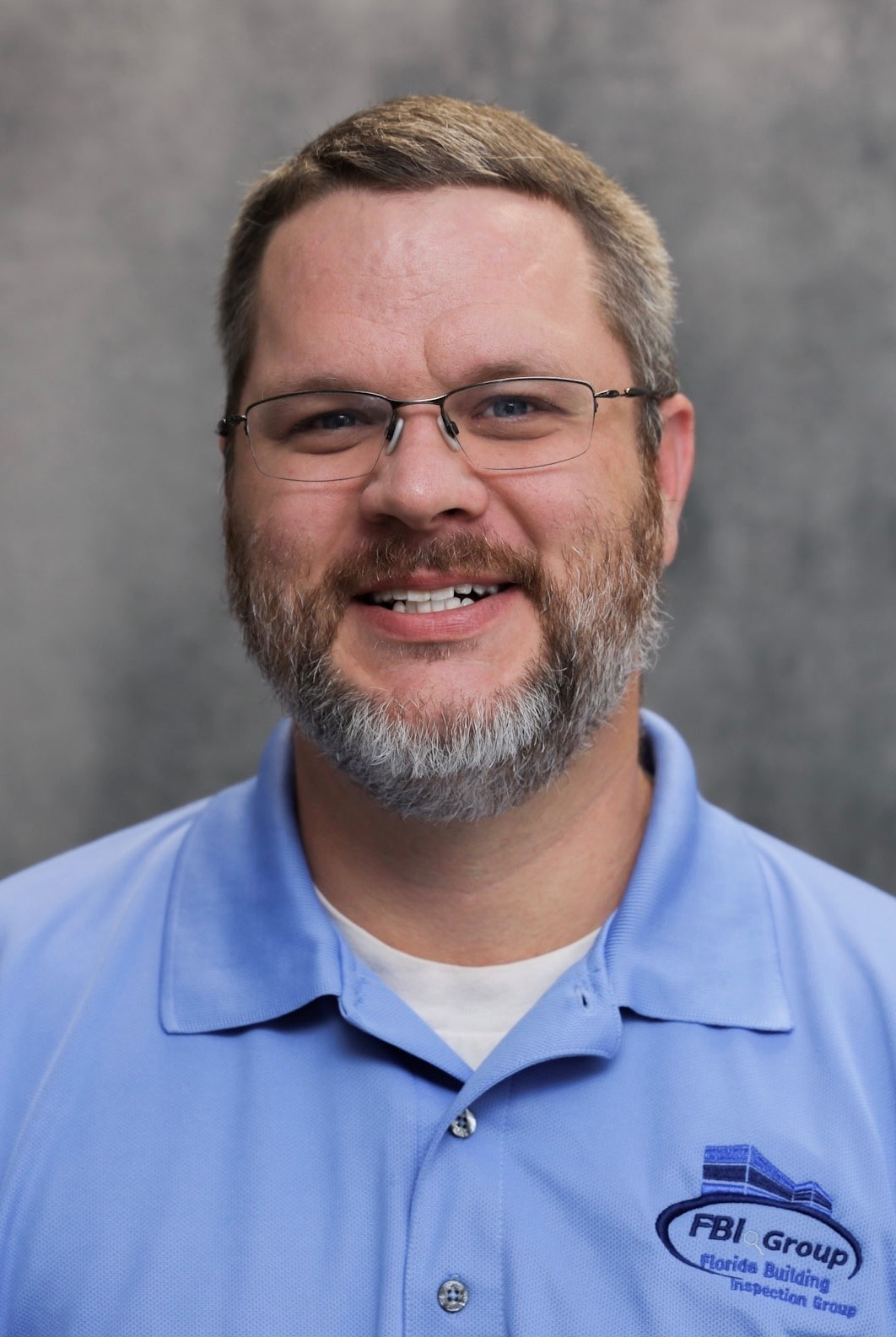 Jonathan Smith

Inspector, CPI | New Construction Inspector
With nearly 18 years in the construction and home services industry, Jonathan is sure to go the distance when inspecting your home. Starting off as a laborer and moving all the way up to Service Manager and Custom Builder, Jonathan has a passion for understanding not only what it going on in a home, but also why something the way that it is. Jonathan is married to the love of his life; a woman that he says, still makes his heart skip a beat daily, and they have an amazing son, and a German Shorthair Pointer who keeps them on their toes.
Miles Moore
Inspector
Miles has been in construction in one form or another for close to 20yrs. He has worked as a professional roofer for 13 years and has experience in different trades from surveying to remodeling kitchen and baths. He brings a unique perspective having worked in the field and prides himself on his work ethic and attention to detail. His most important role is being Dad to Jack and Olivia.
Chris LaRose
Inspector
Chris has extensive knowledge in construction and home building beginning with a family business over 30 years ago. He has been involved in all aspects of home building from layout to lentil, and roofing. Chris enjoys his family and friends, any sporting events he can watch or participate in, and anything on the water Paddle boarding being one of his favorites.
Donatello Verardi

Inspector
Tr-Lingual (German, Italian and English)
I moved three years ago with my wife and children from Germany. I'm fluent in 3 languages ( German, Italian and English). In Germany, I worked in a construction company that belonged to my wife's family. My Father-in-law was a Master Glazer, and we all worked in residential housing construction. Meanwhile, in Florida, I learned the Home Inspection profession from my Mentor and Master Home Inspector Hugo Lintner and Tom Frey. I stand for quality and accuracy and I love my profession.